Rating: This a book I can't rate. Please don't make me.
SoC Obsessiveness Syndrome
Side effects of reading Six of Crows but not limited to:
Shortness of breath
Hyperventilation
Weak knees
Heart palpitations
Headache
Heartache
Dehydration
Dizziness
High blood pressure
Constant sweating
Congestive heart failure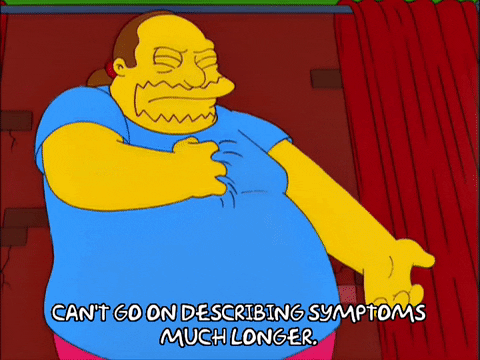 I was reluctant to start it because the first time I read it, it broke my heart. And it happened again. And again. And again. I hate it really. I hate Bardugo. I hate Nina and Kaz and Inej and Wylan and Jesper and Matthias for breaking me. I really hate everyone. When someone interrupts me while I'm reading and then asks about the book I'm reading and then pretend to be interested is really annoying but when someone interrupts me when I'm reading CK or any Bardugo novel or something so gripping, I can easily show them my mad knife skills 😂
I am self-taught. These books can change you 😆
But I'm getting off-track…We're talking about Crooked Kingdom.
It's fine. Leigh Bardugo just ripped my heart and crushed it in front of me but I'm fine guys. Totally fine. Fiiiiiine! That is just invisible dust that got in my eyes. I am not bawling or ugly crying with snot running down my nose. Everything is fine….
Or maybe not.
I'm still re-re-reading it and I'm so afraid of what will happen if my heart stops again. Does anyone know what happens when your soul is stomped in front of you for the millionth time? Even idk. Planning to find out. Pray I don't die.
This book is a luscious feast and even more enjoyable than SoC. And well, more realistic. For those who are still figuring whether to read it, READ IT. The only spoiler I can give is that it is nothing like you will ever expect it to be. And my cinnamon buns have suffered a lot 😭😭
Let's start the logical stuff of the review:
Have any of you wondered what I did with all the cash Pekka Rollins gave us?"
"Guns?" asked Jesper.
"Ships?" queried Inej.
"Bombs?" suggested Wylan.
"Political bribes?" offered Nina. They all looked at Matthias. "This is where you tell us how awful we are," she whispered.
Tell me who didn't laugh at that. Over the course of these two books, I do have come to love all of them. Even Matthias and Kaz and every single side character. Pekka and Van Eck and all of them. I was squealing when Genya and Nikolai came!!!!
"Don't worry, Da. People point guns at each other all the time in Ketterdam. It's basically handshake."
Jesper is the funniest, sassiest and the best in the whole series. I seriously hated Kaz and I could've threatened to slit his throat quietly for all the cold shoulder he gave Jesper but Ketterdam is quite far far away. I had my papa read SoC and he was like, "One hell of an awesome book but Jesper is rather queer."
Some people don't understand you as I do, Jes. Let's be sassy together 😂😂
"Everything is a negotiation with you, Brekker. You probably bartered your way out of the womb."
True. Even I did double-take on how much crazy he is. And really stupid. Of course, he couldn't appreciate being called stupid but he was an idiot when it came to Inej. I don't get him *smh*
"If you don't care about money, Nina dear, call it by its other names."
"Kruge? Scrub? Kaz's one true love?"
Kaz and Nina's banter is definitely worth crying for. Under everything, they're all real friends and I love that about them. They don't abandon or double-cross each other and actually understand. All of them are wonderful.
Inej is somewhat, creepily familiar to me. All of her qualities, the tight rope and gymnastics and caravan are eerily based on Indian tribes and I'm pretty sure she is an Indian-based character like Ravka is Russia and Kerch is Netherlands. So Sulis might be Indians. I don't know for sure but my hunch could be true. What do you think?
"The Suli, being a nomadic, stateless people, may have been influenced by Jewish or Romani cultures. The physical appearances of the Suli, however, appear to have a South Asian influence. In particular, Suli performance seems to draw inspiration from the Bhavai theater form practiced in Gujarat, India."
I found this on the fandom page for the Suli and looooooook! I researched a little and the Romani people have Indian origins and their circus stuff is also based on Indian theatre. Yess! All those who were wondering, here's your proof.
So I won't write a review on whatever is good and bad in this book. If you leave it upto me, then a full 5 stars but I won't even rate it. It is perhaps the bane of my existence. I have the gorgeous collector's edition beside me but as I said, I'm too afraid to pick it up again. What can I say? CK crushes your heart and soul and leaves you in a permanently dazed state? Somewhat.
Do comment on what you think about it! And I just made a major breakthroughhhhhh in the history 😂
Until we meet next time,