HAPPY PRIDE MONTH TO EVERYONE.
Oops. The correct version is: 🌈HAPPY PRIDE MONTH🌈🌈🌈🌈🌈🌈🌈🌈🌈🌈🌈🌈🌈🌈🌈🌈🌈
With that I will bring you some amazing queer books for June.
---
Pride TBR 🌈
1. The Seven Husbands Of Evelyn Hugo
The Seven Husbands of Evelyn Hugo is a a captivating and a tale full of the feels.
It tells the story of an aging, reclusive Hollywood star: from her launch in the 40s to her peak and her seven husbands to her deepest secret and her eighth marriage.
It is brash in its narrative but there is something oddly compelling about it and it one of my favorites.
Also I might re read it because I can't believe that's how it ended.
I'm not threatening you to read it 🙂🗡
2. Unbroken by C.L. Clark 🌈
By far this is has the most sexist cover. I mean an unapologetically queer soldier flexing her biceps on the backdrop of a burning colonial empire…are you a mind reader dear author?
3. The Jasmine Throne by Tasha Suri 🌈
Now this might be bias working here. I've read all books by Suri and she is an amazing author.
I haven't read this book yet. But I will as soon as it releases and what a coincidence, it comes out during the pride month.
Here is the simplest way I can describe it:
Two morally grey, Indian lesbians who want to bring an empire down.
4. A Dowry Of Blood by S.T. Gibson 🌈
A Dowry Of Blood is a queer polyam reimagining of Dracula. And I was not the first one too smash that want-to-read button and add it to my ever growing TBR.
Did someone hack my account and do it? Because I'm not fangirling over this, no no not at all.
Or maybe I'm lying. You never know ;))
5. The Chosen And The Beautiful by Nghi Vo 🌈
There was no doubt I'd not pick this up after reading novellas written by Nghi Vo.
It has queer Asian-American MC who is also a magician. Say what now?
6. She Who Became The Sun by Shelley Parker-Chan 🌈
A bold, queer, and lyrical reimagining of the rise of the founding emperor of the Ming Dynasty.
*coughs* What did you just say? Did you steal it from my mind? Mulan plus Song of Achilles?
7. Ace of Spades by Faridah Àbíké-Íyímídé 🌈
A POC and queer thriller.
AHHHHHHHHHHHHHHHHHHHHA.
8. Fireheart Tiger by Aliette de Bodard 🌈
Award-winning author Aliette de Bodard returns with a powerful romantic fantasy that reads like The Goblin Emperor meets Howl's Moving Castle in a pre-colonial Vietnamese-esque world.
DID ANYONE SAY HOWL'S MOVING CASTLE? And its queer too.
9. The House In The Cerulean Sea by T.J. Klune
This has been on my TBR forever and I know I'm late but this is sorta giving me Howl's Moving Castle vibes and I'm here for it.
I'm also here for the🌈GAY🌈 so point me to where that is.
10. House of Hollow by Krystal Sutherland
This is a kinda urban goth/thriller with queer romance and such beautiful cover that I'm crying. You had me there.
It also has lots of sisterly bonding, fairytale gothic mystery.
11. One Last Stop by Casey McQuiston 🌈
I've been waiting for this for FOREVER. It was supposed to release in January right? And now it was pushed till June and I missed getting the ARC. BUT such coincidence it is releasing today!
It was pitched as a queer Kate & Leopold except the girl on the train is displaced from 70s and August has to save her subway crush.
---
MAY WRAP-UP
It is not much but still I'll wrap it up. I read 20 books this month, a few of which were audiobooks.
The Cruel Prince
The Wicked King
The Queen of Nothing
A ​Sky Beyond the Storm
How the King of Elfhame Learned to Hate Stories
The Lost Sisters
City of Boneheads: A Parody of City of Bones
City of Bones
The Rose & the Dagger
The Mysterious Affair at Styles
And Then There Were None
The Song of Achilles 🌈
The Seven Husbands of Evelyn Hugo 🌈
Sacred Games
The Empress of Salt and Fortune 🌈
Fireheart Tiger 🌈
Murder on the Orient Express
The Murder of Roger Ackroyd
Cinderella Is Dead 🌈
Death On Nile
May Read Count: 20/20
---
How's my life going?
↠ I had read Agatha Christie novels for a summer project and I loved Poirot and I am currently applying to be his faithful sidekick.
↠ I discovered a not new thing called novellas and I need more of those. So if anyone has any novella recs, please give them to me in the comments!
↠ My summer holidays were very uneventful and boring and I had lots of projects and lots of extra classes.
↠ I bought my favorite book ever called Howl's Moving Castle (I have mentioned it two or three times in this post already).
---
Here are some more pride gifs.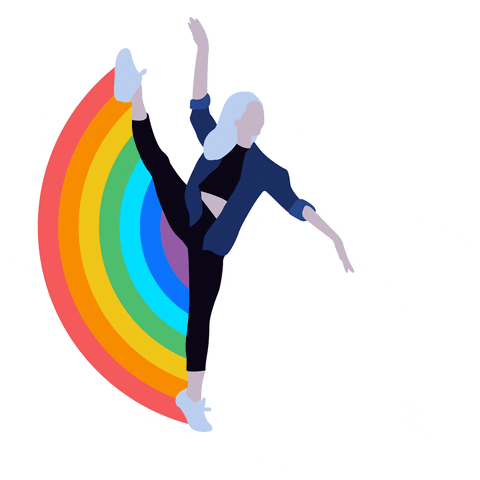 That is it for today! Have a great pride month ahead and I will probably spam stuff with unnecessary rainbow flags 🌈🌈🌈🌈